October is forgotten and November certainly delivered
In November, Pareto Nordic Cross Credit benefitted from a general market upturn, hence a strong monthly performance. The bond market started off somewhat cautiously, but the direction became clear after barely a week. Some good news and stock markets appreciating rapidly made bond markets follow suit. Although the number of infected by Covid-19 has been increasing, an effective vaccine seems to be closer than ever. Trump is apparently accepting the defeat and US authorities have handled what looked like an increased threat of terrorism in a good manner.
Pareto Nordic Cross Credit
Performance since inception as per 30.11.2020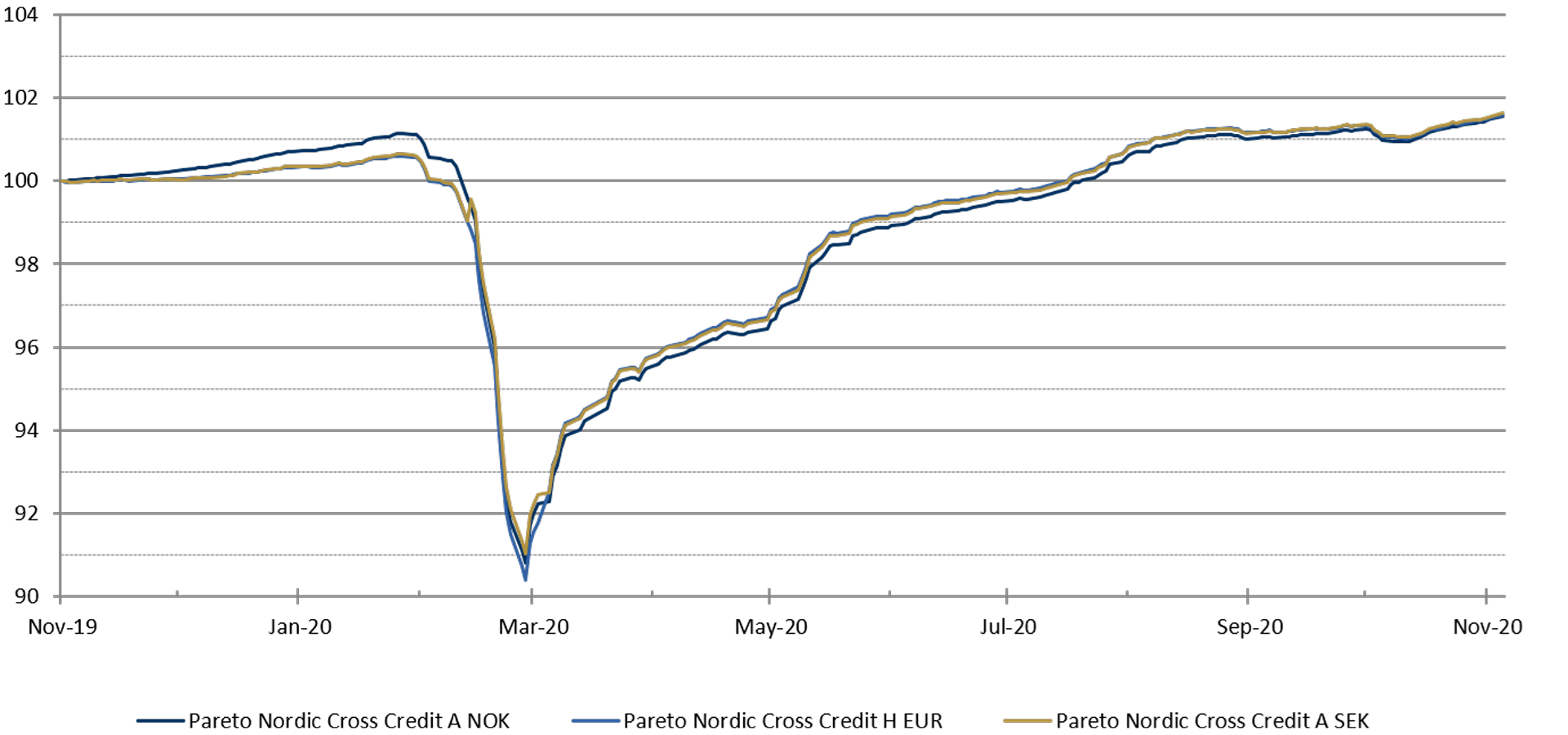 The strategy of avoiding the travel and leisure sector is intact, but developments are watched closely. This is one of the sectors that have experienced a large decline in value so far in 2020. If the vaccine is effective and travel restrictions are gradually eased, this sector should benefit.
Proven ability to stand firm in challenging times
One of the goals of the fund's investments is that they should be able to withstand a certain amount of uncertainty and a downturn in the economy. After its first year, the portfolio has proven to have this quality, with good stability during the somewhat turbulent periods this year.
Fossil-free
From a risk management perspective, the fund is designed to be fossil-free and will avoid exposure to companies that extract, refine or produce energy from oil, gas or uranium. The fund also seeks to limit direct exposure to companies that are strongly affected by price fluctuations in fossil energy.
Attractive yields and diversification benefits
Highly attractive spreads
Diversification benefits within global or European credit portfolios
Nordic high-yield market is continuing to expand – across both regions and sectors
Robust Nordic economies with extensive safety nets provide good conditions for risk-taking and reduces risk of social unrest
Efficient and well-functioning legal systems ensure stable and predictable conditions for investors
Experienced portfolio management team
Pareto Nordic Cross Credit is managed by two senior portfolio managers, based in Oslo and Stockholm. The fixed income fund is actively managed with long-standing proprietary credit models and local expertise.
Pareto Nordic Cross Credit A NOK had a return of 0.6% in November, 1.6% since inception (11/25/2019) and 1.2% YTD as per 11/30/2020.
Historical returns are no guarantee for future returns. Future returns will depend, inter alia, on, market developments, the portfolio manager's skill, the fund's risk profile, as well as fees for subscription, management and redemption. Returns may become negative as a result of negative price developments.