On August 31, 1995, the adventure began. The Pareto group, which was established at the end of 1985, wanted to consolidate the management of excess liquidity. Employees, customers and other relations wanted to invest in the same portfolio, and the asset management business saw the light of day in the form of a discretionary mandate. Today, owners, partners and employees of Pareto own 10-15 per cent of total assets.
It's a marathon, not a sprint
The management of discretionary mandates has shown that a consistently value-oriented management style provides results. – Investing in stocks is like participating in a marathon, says portfolio manager Besim Zekiri. – Long-term thinking and self-discipline have paid off for our customers.
Being a co-owner in this portfolio for a quarter of a century has produced an accumulated return of 1629 per cent. This means an annual average return of 12.1 per cent. For those of our customers who have been patient, this means that 10 million invested in 1995 has yielded a return of NOK 173 million, i.e. a return of 163 million. Of this, dividends make up about 40 per cent. This illustrates well the effect of being a long-term shareholder in solid Norwegian companies.
Solid and robust
The investment philosophy is value-oriented, long-term, concentrated. – We invest in solid, reputable Norwegian companies and have studied each individual company thoroughly and over a long time before we go in on the ownership side, says senior portfolio manager Einar Løvoll. A discretionary mandate is for investors who want to be long-term invested in the Oslo Stock Exchange. It is about owning robust companies that endure through both the good times and the bad.
Discretionary mandates since inception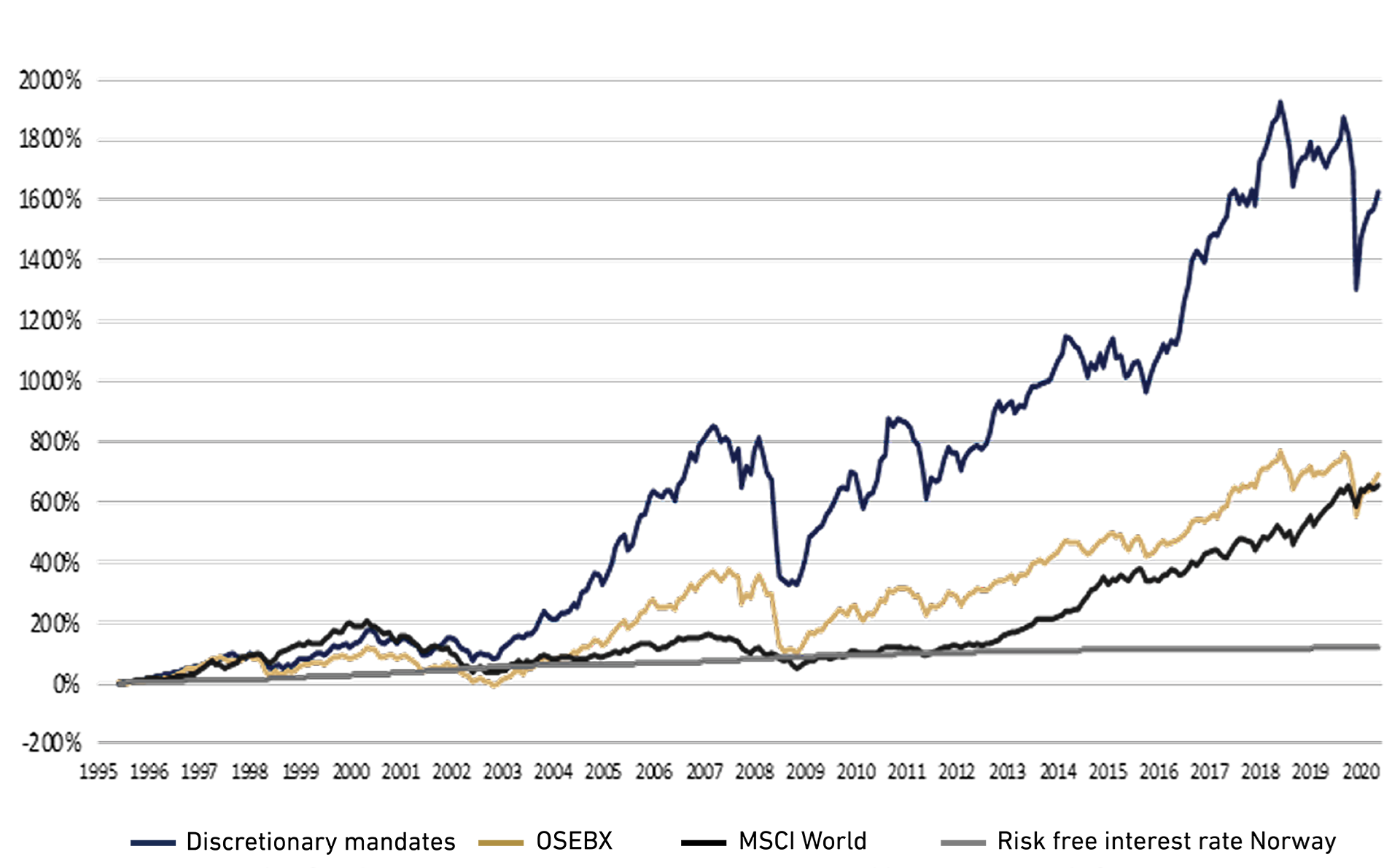 In the same boat
The managers have invested most of their own assets in the fund. This has been a tradition from the very beginning. – In this way we are in the same boat. It is both motivating and important, says Løvoll, who has been on board more or less from the start.
Having the same manager and investment philosophy over such a long period of time has contributed to continuity, and the investment strategy has been the same since 1995.
Today's portfolio is priced at approximately equity book values. History has shown that when this portfolio has been priced at book value or lower, the ensuing years have typically yielded a good return.
Discretionary mandates
Discretionary mandates have been a central part of Pareto Asset Management's operations from the beginning. Einar Løvoll has been the lead portfolio manager since 1997 and manages the company's discretionary stock mandates together with portfolio manager Besim Zekiri. The shares are selected on the basis of long-term, fundamental analysis in a limited number of companies, typically in industries where Norway has a competitive advantage.
Through a discretionary mandate, we will manage your investments on your behalf, with your authorisation. You will thus be a direct shareholder in the underlying companies, as opposed to units in a mutual fund.
Portfolio management team
Top holdings as per 31.08.20
Yara International
Lerøy Seafood Group
Sparebank1 SR-Bank
TGS Nopec Geophysical
Sparebank1 SMN
Sparebank1 Nord-Norge
SalMar
Wilh. Wilhelmsen Holding
KID
Equinor
Discretionary mandates have given an annualised return of 12.1% since inception (31.08.1995) as per 31.08.2020. Return figures from discretionary mandates with 0.5 per cent in annual management fees. Returns may differ as a result of individual fee structures.
Historical returns are no guarantee for future returns. Future returns will depend, inter alia, on, market developments, the portfolio manager's skill, the fund's risk profile, as well as fees for subscription, management and redemption. Returns may become negative as a result of negative price developments.